Coffee as you like it
About café café's unique franchise model
Retail chains generally provide consumers with a consistent and reliable experience, which is why we would expect to find similar menus, prices, service, and design in a chain of restaurants and cafes (for example – McDonald's and Aroma). These are all part of the service experience, making it possible to brand the chain, and differentiate it and its uniqueness.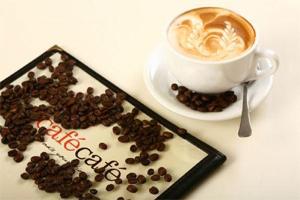 However, if you visited a few different café café branches this year, you may have been surprised to discover that each branch is designed differently, and that the chain has a wide variety of formats, sizes, interior design, dishware, service levels, menus, food, and desserts.
In fact, each branch is unique and differs from the other branches, and aside from the shared logo and branded food items (coffee, sugar packets, etc.) that come from the same central supplier, it's hard to know that the branches belong to the same chain.
Café Café's innovative and flexible franchise model lets each franchisee design their own branch, add food items that appeal to the local clientele, and adapt each branch in the chain to the preferences of the franchisee running it. In other words, numerous eliminations were made compared to the regular franchise model.
The franchisees receive professional knowledge, a well-known logo, and coffee from the chain, and pay a significant percentage of their turnover for this, but they have to organize the rest themselves and adapt it to their individual locations. The high flexibility given to franchisees, which competing chains do not offer, enables the café café chain, owned by Ronen Nimni, and its franchisees, to enjoy several significant advantages.
First, the flexibility is more convenient and saves many franchisees a lot of money. For example – someone that already has a café or restaurant and is interested in converting it to a café café branch and running it under a well-known brand will not need to invest a lot of money in design and changing the décor. This also makes it easier for new franchisees to find suitable locations.
Second, the flexibility makes it possible to adapt each branch to the specific location in which it operates. Each franchisee can adjust the menu, service, prices, and décor at the branch to the needs of the local clientele, and also to what the local vendors offer. For example – a franchisee can offer special dishes according to the ethnic groups in the area, and adapt the branches to be family or student-friendly, to buy fresh desserts at a local bakery, and so forth.
Thus, thanks to the operational flexibility, many more franchisees prefer to join the café café chain. In fact, it is one of the chain's main secrets of success, which has helped it grow rapidly and become the largest café chain in Israel, with over 120 branches, and growing.
Moreover, since the franchisees have so much autonomy regarding their branches, the café café chain saves numerous operational expenses (on inspection, operation, establishment, construction, etc.).
And what about branding, you are probably wondering? Apparently, at least in Israel, you can develop a strong brand simply by having a strong presence and numerous branches, even if the brand is very diverse and the branches don't resemble each other, and even if you don't actually know what to expect as a customer when you go to a new café café branch .