Written by ZOOZ consulting and training | (972)-9-9585085 | info@zooz.co.il | www.zooz.co.il
Hello!

We are pleased to send you the new issue of LaZOOZ.
This monthly newsletter is sent as a free service to thousands of senior executives.
It features different sections each time, and does not include advertisements.

We tried to keep it brief, assuming that your time is precious and the work is plentiful.
Those who wish to learn more, will find links to articles and relevant information sources.
We hope that you will find the newsletter useful. We will be happy to receive any comments and suggestions.

Pleasant reading!
Ari Manor, CEO, ZOOZ

Details
An interview with a senior executive
Meir Tal, CEO of the Rotal Group
Number of company employees:
Approx. 30 company employees, approx. 6 of which are my direct subordinates.
We provide:
Equipment and materials for the Israeli industry. Rotal deals with cleaning materials, fuel additives, adhesives, sealants, separation materials, and lubricants for industrial applications.
I have been in my position for: :
Approx. eight years.
History:
I completed a bachelor's degree in Chemical Engineering from the Technion and Trinity College in Ireland. I then became the CEO of Lachman, which deals with computing and control for industry such as: height meters, pressure gauges, flow stoppers, flow gauges, temperature gauges, noise gauges, and more. I completed my M.B.A. at Cambridge University in England and when I returned to Israel in 2003, I decided to join Rotal – a family business that my grandfather established and which was passed on to my father, and which I now run. Rotal acquired Lachman, and after I became CEO of Rotal, the company acquired and incorporated additional companies and activities, and became the Rotal Group.
What I like about the job:
Doing, creating, and the relationships with customers.
The most difficult part of the job:
The responsibility. I am responsible for an entire staff, for the financial aspect of the company and for sales success. The constant struggle to achieve goals that we have set for ourselves is not easy.
Goals I want to attain:
That the business will grow drastically, and from a personal standpoint to attain long-term financial stability.
Our vision:
Rotal's vision is to serve the entire industry in a high-quality and professional manner. The vision is put into practice by constantly studying the changes in the market. We also attempt to be top quality and professional in every field we touch.
O

riginal product

s

in the

field
:
"Pre-coated adhesive" that secures screws – this is a special substance that is already found in the screw. As soon as you screw it in, the active ingredient begins to secure the screw.
Sources of innovation:
A regular forum of the management and staff convenes and we use it to systematically develop new and successful ideas.
Recommended professional book:
A

book that I recommend, which has been with me for many years is Crisis Management by the Harvard Business Review. Details about the book can be found here.
Rotal's website:
www.rotal.com
Send feedback to
:
meir@rotal.com
Would you like to be interviewed?:
contact us
Education
A must-read book for managers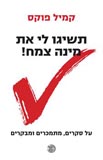 Tasigu Li Et Mina Tzemach! (Get Me Mina Tzemach!) / Prof. Kamil Fox / Dvir
In his book, Get Me Mina Tzemach!, Professor Kamil Fox succinctly explains how to conduct market surveys properly, and how to overcome various deviations when conducting surveys. For example – how can you take people that never answer the surveys into account? And what about people that lie during surveys? And to what extent can a survey be accurate?
Kamil is a professor of Statistics at Tel Aviv University who served as the President of the Israel Statistical Association, and is constantly conducting surveys for Ha'aretz newspaper, and election polls on television. Professor Fox uses his extensive experience in conducting surveys to explain in his book how surveys can describe or distort reality, according to how they are used. He describes in detail the manipulations that are sometimes done using surveys, how to pick up on them as readers and how to avoid them as pollsters. And as a bonus, the book is seasoned with amusing anecdotes and with the author's well-developed sense of humor.
If you work in Marketing, or make decisions based on polls and surveys, use this book to understand the theory and practice of surveys, and how you can systematically learn your customers' preferences. You are guaranteed a light and enjoyable reading experience, despite the "heavy" subject matter.
Invention
An innovation which surprised the world market and competitors
Meat? Substitute!
About Tivall's vegetarian schnitzel
In 1983, Gazi Kaplan, the Farm Coordinator of Kibbutz Lohamei HaGeta'ot (The Ghetto Fighters Kibbutz), wanted to set up a factory on the kibbutz after realizing that agriculture was beginning its demise. In his search for a suitable factory, he inquired regarding the option of establishing a plastics factory with Moshe Lekach, from the Palram factory in Kibbutz Ramat Yochanan. While Moshe was praising the wonders of plastic, Gazi noticed a Fedco booklet on his desk. Gazi, who was curious by nature, asked Moshe about Fedco, and he responded that it was something unimportant – a food factory that he was asked to look into. Gazi asked him for the booklet, and Moshe was happy to give the "nuisance" to Gazi. It turned out that the owners of the Fedco factory wanted to get rid of the factory for cheap because they didn't believe they could persuade the Israeli nation to eat soy-based meat substitutes.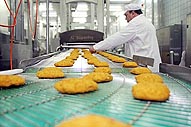 Gazi and his people looked into the market with seriousness, and reached the conclusion that the market had potential. They joined the late Dr. Micha Shemer, a food technologist that wanted to develop plant-based food products, and they set up the factory's first laboratory in the kibbutz's old shoe workshop. The factory, which was named Tivall, was founded in 1985 with an investment of $4 M. The first product the factory developed was a vegetarian schnitzel, after a survey showed that schnitzel was the most popular and favorite meat dish among Israelis. The first TV commercial for vegetarian schnitzel stressed the fact that it was cholesterol free. In fact, Tivall's schnitzel was the first ready-made schnitzel sold in Israeli grocery stores.
Tivall's products are technology-based, and 4% of the company's annual revenues are invested in R&D. Among other things, Tivall developed a unique and patent registered method of processing fibrous vegetable protein, FVP, which gives vegetarian products a fibrous texture, resembling that of a piece of real meat or chicken. In 1993, Tivall launched the corn schnitzel, which has become the best-selling schnitzel in Israel.
Over the years, Tivall's sales grew and the company added numerous innovations, including a line of ready-made vegetarian meals, veggie snacks with hints of cheese, a light corn schnitzel, and a thin vegetarian schnitzel. Tivall also recently came out with a line of vegetarian schnitzels that can be heated in a toaster.

Tivall currently markets to 15 countries worldwide, and the company's annual revenues in 2008 were estimated at approx. 300 M shekels, with 60% coming from export. Osem acquired 50% ownership of Tivall in 1995, and completed the acquisition of all the shares in 2010, according to the value of 1.1 B shekels for the factory. Every member of Kibbutz Lohamei HaGeta'ot received an average of one million shekels for Tivall's complete acquisition. And Gazi Kaplan himself is the current CEO of Osem. So, indeed, curiosity pays off…