Written by ZOOZ consulting and training | (972)-9-9585085 | info@zooz.co.il | www.zooz.co.il
| Issue 59 |
Hello!

We are pleased to send you the new issue of LaZOOZ.
This monthly newsletter is sent as a free service to thousands of senior executives.
It features different sections each time, and does not include advertisements.

We tried to keep it brief, assuming that your time is precious and the work is plentiful.
Those who wish to learn more, will find links to articles and relevant information sources.
We hope that you will find the newsletter useful. We will be happy to receive any comments and suggestions.

Pleasant reading!
Ari Manor, CEO, ZOOZ

Details
An interview with a senior executive
Raphy Ben-Shimon, CEO of Floris (and Hadas)
Techno-Marketing
A guest column: Neta Weinrib – On B2B marketing of technological products
Analyzing a Competitive Market

OK, we've defined a product (or product line) in this section in the past. Now we need to make sure that the product will have customers to buy it from us, and that it will be worthwhile for us to sell to these particular customers. For this purpose, we need to analyze the market in which we operate.

A recommended model for analyzing our market is Porter's Five (or seven) Forces. There is a lot of information about it in numerous languages on the Net, so anyone that is unfamiliar with it is welcome to Google and read. Porter's model deals with analyzing competitiveness in a specific market, and if we use it, we don't forget anything along the way: not the competitors, not the barriers to entry, etc.

So where's the problem? The question is WHAT market do we need to analyze?.

Let's take a company that sells products to cellular operators, for example. The cellular operators use these products to offer services to their customers: corporate and private customers. How many markets do we need to analyze? What markets are the most relevant to understanding where our product stands?

In general, the first analysis is done on the market in which we want to operate: Who are our competitors? Who else might enter the market and become a competitor? What are the barriers to market entry? This analysis is important to the success of the product and the company, but it's not enough.

Especially in the technology industry, other markets with similar technologies must be identified, and checked to see what is happening in them as well: regarding opportunities (whether the market is growing - whether there is a business opportunity that we are missing) and regarding the potential threat (whether it is a shrinking or saturated market – whether players in this market will decide to enter the market that we are trying to build). A (very general) example of such as process is the entry of the large IT companies to the field of added-value services at cellular operators.
It is very important to also analyze the customer market to understand the customers better. What problems are they dealing with? What are their aspirations? How can we help them solve problems or fulfill aspirations?

The problem is that our customer market is also influenced by other markets. For example, the saturation and shrinkage of landline telephony service providers leads them to look for ways to bite into the ever-growing pie of the mobile services. In other words, a change in an "external" market can lead to pressure and increase competition in "our" market.

In addition, our customer market is also affected by what happens with the consumers. For example, a recession in the market will lead many companies to cut costs on communications, and minimize their interest in advanced communications services.

After completing all these analyses, either the patient dies (we reach the conclusion that our market is impossible and we have to go back and redefine our product) or we'll be ready to go for it.

To date I have described how to create a marketing strategy in this column. We are getting closer to being able to stop thinking and start doing: In other words – take our strategy and make it happen.
Invention
An innovation which surprised the world market and competitors
The Perfect Temptation

Seeing as summer is rapidly approaching, we will present the story of the world's best-selling ice cream bar.

It all started in the late 1980's, when Unilever decided to develop a novel ice cream bar for adults. The new ice cream bar contained rich vanilla ice cream (cream-based), but in order to set it apart from the competition, Unilever decided to focus on the chocolate coating. The ice cream bar that Unilever developed, originally called Magnum Classic, contained a thick coating of good quality bittersweet chocolate, weighing in at 68 grams. The exceptional thickness sent customers a clear message: this is the ultimate indulgence, combining ice cream and chocolate (more than half a bar of chocolate per ice cream bar!).

Magnum Classic's launch in England in 1987 was a smashing success. Ice cream bar consumers quickly got hooked on the tempting combination of ice cream and chocolate that Magnum offered. Chocolate lovers that hadn't been fans of ice cream bars until then began to relish the Magnum bars. Also, Magnum, which was designed for the more mature customer, appealed to youth and children as well. Absolutely everyone bought Magnum, loved it and became die-hard customers.

In light of its success in England, Unilever started selling Magnum bars worldwide, and expanded its variety of flavors and types of Magnum ice cream bars. New flavors included Magnum Mint (1992), Magnum Double Chocolate (1996), Magnum Double Caramel (2000), and Magnum Yoghurt Ice Cream (2002), to name a few. Later, several new product lines were launched, including Magnum Sins (2003), Magnum Intense, with a truffles core (2004), Magnum Senses (2005), and Magnum Moments with bite-sized bars (2009). Concurrently, Unilever expanded the Magnum brand to other types of ice cream, including cones and sandwiches.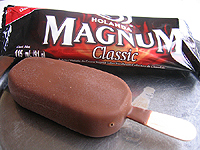 The gamble on the thick chocolate coating and making the Magnum brand a trendy and craved-for product, while launching new flavors every year, paid off big time for Unilever. Magnum is the leading brand in its category in more than 40 countries that sell it. More than once billion (!!) Magnum ice cream bars are sold annually worldwide. Talk about sweet success…

Information about Magnum in the Unilever website: here
An article on the Six Inventive Thinking Tools can be found here