Written by ZOOZ consulting and training | (972)-9-9585085 | info@zooz.co.il | www.zooz.co.il
| Issue 41|
Hello!

We are pleased to send you the new issue of LaZOOZ.
This monthly newsletter is sent as a free service to thousands of senior executives.
It features different sections each time, and does not include advertisements.

We tried to keep it brief, assuming that your time is precious and the work is plentiful.
Those who wish to learn more, will find links to articles and relevant information sources.
We hope that you will find the newsletter useful. We will be happy to receive any comments and suggestions.

Pleasant reading!
Ari Manor, CEO, ZOOZ

Please note:
We support the anti-spam legislation. The LaZOOZ newsletter, sent to Strategy, Marketing and Innovation professionals (and other subscribers that register here), contains practical and professional content, and it is NOT an advertising document. Therefore, the anti-spam law does not apply. However, if you are no longer interested in receiving the newsletter, feel free to unsubscribe here or use the (permanent) link at the bottom of the newsletter. If you do not unsubscribe, we will consider this as your consent to continue sending you the newsletter.


Details
An interview with a senior executive
Amnon Shalman, CEO of Plasgad (Parent Company) and Polyziv
Number of company employees: 140

.

Number of employees worldwide: 13 managers.
Number of direct subordinates:
10.
We provide: Language instruction, inter-cultural training and additional solutions (such as translation services).
I have been in my position for: 3 years. I have been working at Plasgad since 1992. I started as a regional salesperson and after 4 years, I was promoted to Marketing Manager. Four years later, I was promoted to Export Manager and later I made it to the position of CEO. I have a Bachelor's degree in Business Administration and a Master's degree in Marketing Management (both degrees are from the Center for Academic Studies).
What I like about the job: : To make the decisions
:-).
The most difficult part of the job: To make the decisions. Especially nowadays, when the markets are destabilizing, managing the business is challenging from numerous aspects. Managers are faced with so many decisions that are first and foremost associated with the human aspect and in retaining information in the organization. One of the greatest dilemmas, which many managers grapple with, pertaining to employee dismissals, is how not to lose the information that those employees have accumulated. Therefore, it's not advisable to rush into firing core employees even if you are experiencing financial hardships.
Goals I want to attain: Doubling the size of the company in terms of sales and profit turnover by acquisitions, developing new products, and sales. This goal was almost attained in 2007 (especially with the help of Polyziv). We still have a lot to strive towards.
Our vision: To preserve our leading position in the Israeli market and be a significant player in Europe (the target market for the growth we have chosen for ourselves).
An original product in the market: Collapsible containers, plastic platforms, crates that save space during transport, sanitary crates for food and medication, collapsible crates to save space in storing empty crates and during transport, lightweight products for air cargo to save expenses, and more.
Sources of innovation: We hear what our customers need and according to the extensive experience that the company has accumulated for the past 25 years, we offer solutions that have been developed in the company by our R&D professionals. We have a large R&D department that proffers engineering solutions with a very strong emphasis on product design. One of the processes we recently initiated, together with ZOOZ, was to introduce an organized process of innovation and product development. The best part of this process was that the ideas came from within the organization and are subsequently screened and scored. This creates order and systemization, instead of going by your gut feel (but your gut feel does not have to be completely voided).
Recommended professional book: The Future Code / Dr. David Passig. The book deals with futurism and I liked the empirical methods that futuristic findings are presented in the global context regarding what the future will look like (from an economic-social-security perspective). The author refers to several sources that support his data, and this places us in a time perspective with regards to how we should act nationally and globally, without being considered spiritual sinners
.


Send feedback to amnons@plasgad.com
The recommendations presented above belong to the interviewee (the interviewees of this section often recommend processes that they underwent with other companies)
Would you like to be interviewed?: contact us

Education
A must-read book for managers
The Origin of Brands / Al & Laura Ries / Collins Business
Published in The Marker Magazine, March 2008, in "The Management Bookworm" column written by Ari Manor, CEO of ZOOZ.
Al Ries is a marketing consultant and sought after speaker, and one of the ten leading business gurus in the world, according to AdAge magazine. In the early 1980's, he published the book Positioning (together with Jack Trout), which forever changed the rules and terms used in waging marketing battles. In 1994, Ries established a Public Relations firm together with his daughter Laura Ries, and since then he has written several recommended bestsellers with her, including The 22 Immutable Laws of Branding and The Fall of Advertising and the Rise of PR, which this bookworm thinks are both must-reads for marketing professionals.
FAl and Laura Ries' last book – The Origin of Branding – was published by Collins Business in 2004. The focus of the book is the analogy between the principal of Natural Selection (according to Darwin's book The Origin of Species) and the development of new and successful brands. There are two developmental forces operating in Nature – Evolution (the gradual development of a specific species) and Divergence – the creation of new species. The function of evolution, according to the book, is only to preserve the advantage of the leader in the market (for example – the constant improvements of Microsoft applications enable Microsoft to stay in the lead). In order to lead and make a breakthrough- evolution is not enough. According to the book, first you need to diverge: to invent a new category that will be identified with a new and pioneer brand. In other words, Microsoft has been leading to date mainly because it invented the category of Operating Systems. Whoever wins the marketing wars is whoever diverges first, whoever creates new species, whoever invents and leads new categories in the customers' minds. Additional successful divergences include Coca Cola (the pioneer of the cola beverages), Red Bull (the pioneer of the energy drinks), and Miller Light (the pioneer of light beers).
A brand that leads its category (which it invented) must focus on pruning – doing business only in the core of the current industry. The need to expand, from a business perspective, is usually a stumbling block for most, and may cause a leading brand to spread to marginal industries and collapse. For example, the fact that Macintosh initially chose to develop both software and hardware only harmed it. If a successful company wants to expand, it must invent additional industries, and launch new brands in them in order to grow. For example, it was better for Coca Cola to only launch the Tab brand in the diet cola industry, and not Diet Coke. Expanding the Coke brand is a two-edged sword.
And what does the book say the No. 2 brands in the industry are supposed to do? They must do exactly the opposite of the leading brand. Target, for example, wisely did the opposite of Wall Mart, which is to build cheap stores that are also more chic (instead of just cheap). Similarly, in the luxury car category, BMW wisely offered smaller, faster, and more fun cars to drive than those of Mercedes. And what about No. 3? According to Ries, in an industry where one leads, and the No. 2 does the opposite of the leader, there is simply no room for a No. 3. K-Mart, which tried to position itself between Wall Mart and Target – went bankrupt. Therefore, if you are a No. 3 – diverge: Invent a new industry and develop a new brand that will lead it. By the way, the ideal market size for the new industry you will develop is zero, since you are about to invent it! An industry that already has a market size is not a new market…
The Origin of Brands outlines the necessary stages of successful divergence: Invent a new category and then a new brand for it (the first will have a generic name, such as handheld computer, and the second will have a brand name, such as Palm). Develop a good initial product under the brand. Turn the old category into a rival (handheld computers are in direct competition with laptops). Leak to the press. Launch a slow and gradual PR campaign (the natural and correct pace) – from less prestigious local papers to exposure on national TV. Recruit allies, such as rivals of the old category. Change the product and the message according to how the press reviewed it. Launch the product and the main message (USP) in a final format only after learning the lessons at the PR stage. Advertising? Unadvisable and ineffective, according to Ries. Certainly not when you invent a new category. You first have to gain trust, satisfied customers, and favorable press reviews.
The Origin of Brands is written in a flowing and easy to read manner (some would even say simplistic), and contains hundreds of examples, mainly of American brands. A simple assumption lies behind the scenes – minds hate confusion and love it when they are offered something different. The bookworm read the book, learned from the numerous examples, and has been a supporter of the principals Ries has been teaching for years. You should also take a stand, and start by reading the book.
Buy the book at: IBooks
The books in this section are a personal recommendation, and the link to purchase the book is for convenience purposes only (it is not an advertisement and we do not profit from the recommendation)
For articles about Innovation, Click here.
Invention
An innovation which surprised the world market and competitors
In Praise of Populism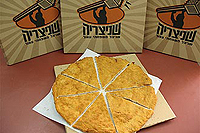 Schnitzel is the most popular entrée among Israelis, and pizza is the most popular delivery food. The Schnitzeria, a new fast food restaurant in Ramat Hachayal, fused the two to create a refreshing innovation: a thin schnitzel in the shape of a pizza. The innovative, thin, round schnitzel comes in a pizza box, and is available in two sizes – a personal pizza and a family size pizza (a huge "pie" cut into 8 slices).
New foods can be a passing gimmick. In order for customers to keep coming back, it's important that the food be tasty and high quality. The owner of The Schnitzeria apparently knows all this and has a fair amount of experience in the food industry, which he acquired in his other restaurants (Ad HaEtzem, Zozobra, Moses, Tony Vespa, and Chimichanga). Therefore, The Schnitzeria wisely did not only renew, but also took care to produce high quality products: thin, tasty schnitzel, a delicious spicy BBQ sauce, and a few simple and good side dishes (fresh Israeli salad, green beans, and more).

We believe that The Schnitzeria will do very well, thanks to its focus on three important things: innovation (a product that fuses two popular foods), simplicity (small menu – schnitzel, two types of salad, and four side dishes), and quality (everything we tasted was delicious).

By the way, combining two products is a popular tactic in locating blue oceans (markets with no competition). Blue Oceans strategy is also particularly suited to times of recession


To visit The Schnitzeria's website, click here
The product and innovation described in this section are a personal recommendation, and the link to The Schnitzeria's website is for convenience purposes only (it is not an advertisement and we do not profit from the recommendation)
An article on Blue Oceans can be found here
An article on the Six Inventive Thinking Tools can be found here.