Written by ZOOZ consulting and training | (972)-9-9585085 | info@zooz.co.il | www.zooz.co.il
| Issue 37 |
Hello!

We are pleased to send you the new issue of LaZOOZ.
This monthly newsletter is sent as a free service to thousands of senior executives.
It features different sections each time, and does not include advertisements.
We have tried to keep it brief, knowing that your time is precious and your work is plentiful. Those who wish to learn more can find links to articles and sources of relevant information. We hope that you will find the newsletter useful. We would be happy to receive any comments and suggestions.

Pleasant reading!
Ari Manor, CEO, ZOOZ

Innovation
Methods and tools for managing innovation processes
Concept Testing – Part 3
Concept Testing is a questionnaire that quantitatively and qualitatively tests customers' responses to a new product (or service) idea. In Part 1 we described how the actual concept should be worded. In Part 2 we described how the actual questionnaire is set up. This time we will describe how to conduct the questionnaire and analyze the results. This section is fairly lengthy because we promised to cover both of these topics (conducting and analyzing) in this issue.

How to conduct the questionnaire:
Concept Testing is mainly meant to relatively compare the various concepts (ideas that a specific company is testing for a number of new and different products). It is therefore important to conduct concept testing in a consistent manner for each tested concept. Concepts are worded is a fixed format, questions are identical, and the questioning is conducted in a uniform manner. These are all critical to being able to compare the various concepts).
Prior to the first questioning session, a suitable respondent panel must be selected. This generally ranges from 20 -25 relevant respondents, which is sufficient to obtain reasonably representative results. A true representative sample will cost much more, and it won't always contribute more information. For a product destined to be sold in the retail chains, this panel will usually be comprised of approx. 20 consumers (end customers, purchasing decision makers), and from approx. 5 sellers, distributors and buyers. The questionnaire will be spread according to the countries in which the product will be marketed, for example – 10 respondents from the United States, 10 from Europe and 5 from the rest of the world. According to the countries that were selected, the questionnaire must be translated to all the relevant languages prior to the questioning session. It is important to ensure that the translation is accurate. Once the panel has been chosen, all the concepts that are being tested will be tested with an identical panel. However, you never ask a specific respondent about more than one concept in a given month. In other words - if you want to test two concepts - you have to ask 50 people in that same month (2 separate and independent panels).
The actual questioning session must also be conducted in a consistent manner. It's better to question face-to-face, and it's possible to identify potential customers next to a relevant shelf in a store and to request that they answer a brief questionnaire (which should generally be asked as a personal favor, since everyone is always busy and in a rush). In order for the execution of the test to be consistent, fixed questioner should be used for all the concept tests in a specific country, if possible. If face-to-face questioning is not possible, the questionnaire can be sent by email or fax, but it's important to be on the telephone line with the respondent while he is answering, in order to instruct and assist him when needed
When a respondent answers the questionnaire, you can let him read the concept, and answer the questions. As previously mentioned, it's important to be available to him in order to help him and answer any questions that may arise. Many respondents find it difficult to answer when they can't see or envision the new product, and the questioner's job is to encourage them to answer to the best of their understanding and familiarity with similar products (in a face-to-face testing session in a store, the tester can show similar products and explain that "product X will be similar to product Y…"). It's important to clarify to the respondent how to answer specific questions in the questionnaire:


Question 7 asks the respondent to what extent he is interested in the concept, and seems similar to question 6 (to what extent does the concept solve a problem). It's best to clarify this point – it is possible that the concept solves a problem for the respondent (question 6), but perhaps that specific problem is unimportant to him (question 7).
Question 10 (what is the main advantage) or question 11 (what is the main disadvantage) repeat what the respondent answered in question 9 (why did you choose to buy or not to buy). If the respondent does not understand what to answer, it is recommended to instruct him to provide the same answer as for question 9".
Question 12 differs from the rest of the questionnaire, because it asks about important characteristics of all the products in the category. It is important to clarify this to the respondent. Also, question 13 might seem to him identical to question 12, and it is important to clarify to him that this time he is being asked about the concept, and not about all the products in the category.
Question 14 asks about personal information. It is important to stress to the respondent that the questionnaire is anonymous but the personal information is for statistical purposes and it is important that they are completed.

How to analyze the questionnaire results:

All the 25 questionnaires that were completed have to be concentrated in the most detailed manner possible in an Excel sheet, including the answers to the open questions. Afterwards, the results must be discussed by an internal screening committee.
To what degree are the results representative? It is important to understand that it is not always a representative sample, and the questionnaire is not a real simulation of a store and an environment with alternative products and a competitive market. Nonetheless, since the comparison is relative (among various concepts), a concept that achieved better results will apparently be more successful in the market. And in any case, a concept test yields a lot of essential information, and is much more accurate than relying on internal screening within the organization alone, or relying on results from the focus groups.

In question 1 - purchasing intent - the response "will definitely purchase" is a good predictor of market segment that the concept can yield. For example - if only 12% answered "will definitely purchase", the market segment will probably be 12%. In addition, it is customary to test the percentage of respondents that answer "will definitely purchase" and "will probably purchase". If 80% or more answer this, it is most probably a successful concept that is worth launching
Question 2 - immediate purchase intent, is related to the outcome of question 1 and also clarifies whether the concept has an "impulse purchase" nature (and therefore, for example, it is worthwhile to place it near the cashiers in some instances).
Questions 4-8 test various aspects of the concept (uniqueness, reliability, relevancy, appeal, and cost-benefit), and if one of these receives a low score –this will most likely be the reason why the concept will not succeed in the market (if possible, the concept should be improved to resolve this).
Optimally, the scores in question 12 (general importance of characteristics) and question 13 (to what extent they exist in the concept) must be identical. If the concept receives a much higher score – perhaps it is possible to minimize and save costs. If the concept receives a much lower score – it should be improved
It is very important to also refer to the answers of the open questions. The answers to these questions can teach us about what words to use in the marketing material
It is also important to test coefficients between personal characteristics (question 14), and purchase intent

Concluding remark: Conducting a concept test is not a simple matter. You need to be committed and along the way you will have to overcome obstinate habits and resistance ("what, we finally approach a customer head-on and ask him questions instead of trying to sell to him?"). Until you actually do a concept test and obtain and discuss the results, the need for a concept questionnaire is vague. However, whoever has tried it already realizes during the first discussion of the concept test results that his knowledge of the customers has jumped a notch, and from then on he will no longer agree to settle for an internal screening or focus groups. So, if you are about to do this for the first time, anticipate the difficulties ahead of time, and don't give up on going through with it. Good luck!


Information on Inventive Thinking workshops appears here (see page 10 at PDF booklet in Hebrew).
For information about Idea Bank Management workshop appears here (see page 12 at PDF booklet in Hebrew).
For articles on Systematic Innovation: click here.
Move
What's new at ZOOZ
Innovation & Creativity Day
If you are interested in improving your organization's creativity – today is your day. ZOOZ offers companies an intra-organizational day where a facilitator is available even for large groups of employees. In one of these days, the participants learn about the five thinking tools that make it possible to solve technological problems and develop new products and services. At the beginning of the day the group learns how to describe problems, and later the participants are divided into groups, where each group raises and solves problems, as well as inventing innovations in any given field that differs from the other groups (for example – a washing machine, a university, an online dating site, and something that is relevant to your organization). At the end of the day a number of selected ideas are discussed in depth using De Bono's thinking hats.

This is a unique, hands-on, bonding and educational day that can inaugurate an innovation year at your organization. Last year we very successfully spent a day like this with groups of 10-200 employees, including at Matrix, Interwise, BiondVax, the High Tech College, and at the Community Center Company.
To schedule an Innovation & Creativity Day for your organization: contact us
.

For information on the Six Thinking Hats: click here (Page 13 in Heb. PDF Booklet)
Exposure
A creative advertisement and its logic
Divine Fragrance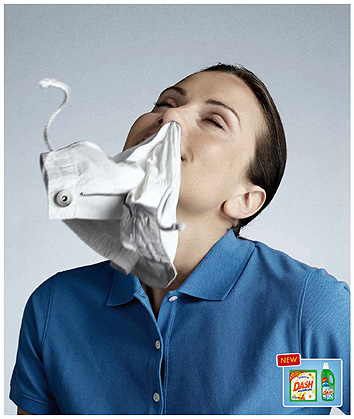 In the past we mentioned the logic of taking outcomes to the extreme, which describes a radical implication of a product's benefit.

The advertisement presented here is another example of this logic. What happens when a laundry detergent has a particularly delightful fragrance? Snorting the laundered item is one possible radical outcome. A somewhat painful picture… but undoubtedly exceptional and attention grabbing.

ASo who said that P&G's advertising is always conservative? They did not hesitate to advertise their French brand DASH in a fairly exceptional manner. Perhaps it attests to the fact that cocaine has really become trendy? And maybe they have a different advertising campaign in Europe? In any case, it's definitely a distinctive ad that unequivocally emphasizes DASH's incredible fragrance.