Written by ZOOZ consulting and training | (972)-9-9585085 | info@zooz.co.il | www.zooz.co.il
| Issue 31 |
Hello!

We are pleased to send you the new issue of LaZOOZ.
This monthly newsletter is sent as a free service to thousands of senior executives.
It features different sections each time, and does not include advertisements.
We have tried to keep it brief, knowing that your time is precious and your work is plentiful. Those who wish to learn more can find links to articles and sources of relevant information. We hope that you will find the newsletter useful. We would be happy to receive any comments and suggestions.

Pleasant reading!
Ari Manor, CEO, ZOOZ

Innovation
Methods and tools for managing innovation processes
Concept Testing – Part 1
How can we know that we are promoting successful ideas and abandoning ones that are doomed to fail? The first step is to set up an idea bank that includes dozens of ideas for innovations in a product or service. The ideas can be developed using various thinking tools (some of which were described in this section in previous issues). Only a large idea bank will allow us to comprehensively realize the potential for innovation in our relevant field. Next, the ideas need to be screened internally, as described in a previous issue of LaZOOZ. For example, out of 100 ideas in an initial idea bank, we are left with only 20 ideas that passed the internal screening (and marked as applicable, of significant profit potential, compatible with the strategy, can be safeguarded, etc.).

It's important that the selected ideas that passed the internal screening must also undergo an external screening with end-customers (in addition to a few buyers and distributors). It occasionally happens that an idea that an organization thought was excellent, was perceived by end-customers as bad, unreliable or unappealing. An external screening will make it possible not only to rule out inappropriate ideas, but also to improve ideas that are worth moving ahead with. The reactions of the end customers teach us a great deal about the way the new product or service should be developed and marketed.

Concept testing is the most recommended tool for conducting an external screening. This involves a written description of the innovation, called the concept, followed by a brief questionnaire (2 pages) that contains quantitative questions (about the purpose of purchasing the new product, its perceived qualities, and more), alongside open questions (why did you choose to buy / not to buy, and more). Both the concept and the actual questionnaire are written in a uniform format, to enable a comparison between various concepts and to decide which innovations are worth moving ahead with. In this section we will explain how to word the actual concept, and in future issues we will explain how to write the questionnaire, and how to analyze the results.

Here are a few guidelines for writing a concept:
Unlike a "core" idea that is understood within the organization, the concept must be more detailed, so that the end customers will understand the innovation and the new proposed product. The concept should therefore be described in a paragraph containing 4-5 sentences.

For example: If the core idea is a "portrait-shaped computer screen", the concept will contain a more detailed description and explain who the manufacturer is, what the innovation is (an upright rectangular screen), what the benefits are, possible applications, pricing, and more, as will later be demonstrated.

The concept does not function as a marketing document, and therefore does not need to be written in a persuasive and enticing manner, and will not extol the new product. On the contrary, the concept must be written in a dry, factual and business-like manner. The matter-of-fact tone will enable the respondent to express a more honest opinion about the idea, because he will feel that his opinion is truly important, instead of feeling like he is being sold something.
A uniform version of the concept should be written, and this uniform format should be adhered to throughout all future concepts. For example, if the manufacturer's name is mentioned in the first concept, then the manufacturer's name should be mentioned in all future concepts. Therefore, if the manufacturer's name has a positive or negative influence on the results of the questionnaire, it will remain constant. This is the only way that a proper comparison between the various concepts can be made.
The concept generally contains the following sentences: A description of the manufacturer, product name, and the product's innovation. A description of the benefits that the innovation entails, and applications that demonstrate this. Reference to the product quality (in order to clarify that the innovation did not harm the standard level of quality). Reference to price, reference to variety (sizes, colors, etc.)
.

For example: Samsung is currently offering its PreView line, a line of portrait shaped LCD computer screens, whose height is 1.4 times longer than their width. This enables a more intuitive, faster and easier viewing of digital documents (for example, viewing entire WORD documents, and more lines of text in websites). The quality of PreView screens is higher than the standard Samsung LCD screens. The price of the screen is identical to a price of a regular screen in which the height is shorter than the width. PreView screens are offered in a number of standard sizes (17", 19", 20", and 22"), and with silver, black or white frames.

The last point, regarding price – it's better to mention it in percentages, meaning relative to the regular product without the innovation. This way, the concept will match various countries (with no mention of actual currency), to various prices (for example, in Tel Aviv and in New York), and to various price perceptions (that different types of customers have). Even when a respondent does not know how much an LCD screen costs, it's easy for him to relate to the innovative screen when it's written that its price is identical to that of a regular screen (or costs 5% more or 5% less).
Information on Inventive Thinking workshops appears here (see page 10 at PDF booklet in Hebrew).
For information about Idea Bank Management workshop appears here (see page 12 at PDF booklet in Hebrew).
For articles on Systematic Innovation: click here.
Move
What's new at ZOOZ
Business Assistance with Technological Products
If you manage a technological product as part of a new enterprise or as part of a more veteran company, and are interesting in marketing it successfully worldwide, it's possible that you need a new marketing plan or to refresh your existing one. A new program that ZOOZ is currently offering answers this need and mainly focuses on B2B (Business to Business) marketing of high-tech products

The program, called "From Technology to B2B Marketing", helps to leverage the technological advantages and the existing knowledge, and to generate and increase revenues in competitive and global markets. The program places a strong emphasis on learning and implementing marketing knowledge in technology-based companies. Neta Weinrib, who has extensive experience in marketing and developing high-tech enterprises. coordinates the program. Neta has an M.B.A. from INSEAD and a Bachelor's degree in Computer Engineering from the Technion. And most importantly, she is incredibly talented at turning high-tech people into marketing freaks
For more information about the workshops and the program: click here (see page 26 at PDF booklet in Hebrew).

To set up marketing assistance processes: contact us.
Exposure
A creative advertisement and its logic
The Absolut Campaign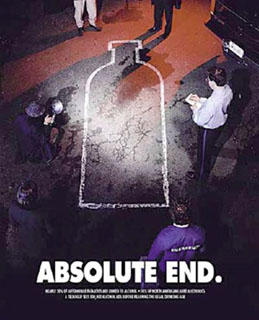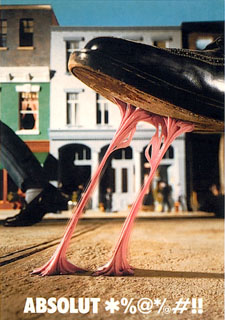 How sad –

Absolute vodka's legendary campaign, which lasted for over 25 years, has come to an end. For some reason, someone at management thought that the campaign that turned a tasteless and colorless fluid into the leading vodka in the world, should be replaced. Let us reminisce about the first days of this prodigious campaign. The first ad, Absolut Perfection, was published in 1980 and was followed by hundreds of additional variations throughout the next 27 years!.

In addition to the prominent and easily identifiable format (that always contained the shape of the Absolut bottle, and the title Absolut + something), the media spread was also unique. Absolut ads were mainly published in progressive and elitist magazines, which contributed to the vodka's prestigious positioning. It's worth noting that the campaign did not succeed at all during the first years, and the Swedish vodka sales did not significantly increase in the target country – the United States. How many advertisers would be patient enough to wait for the third and fourth year in order to get results?.

And now, when Absolut has apparently lost its patience, and are getting ready to launch a different campaign altogether (and in new, more interactive media), all we can do is regret the end of Absolut (see the right ad), and express our sincere protest (see left ad)*.
The highly recommended Absolut Book can be bought here.
For Information on the Creative Advertising workshop see page 18 of the booklet of Strategy and Marketing workshops (Hebrew, PDF file) or contact us.
We would be happy to receive more interesting advertisements Please send them to ari@zooz.co.il.

* The two advertisements were created by fans of the campaign, and are not official Absolut ads. This is testimony of the buzz that will now dissipate…