Written by ZOOZ consulting and training | (972)-9-9585085 | info@zooz.co.il | www.zooz.co.il
| Issue 29 |
Hello!

We are pleased to send you the new issue of LaZOOZ.
This monthly newsletter is sent as a free service to thousands of senior executives.
It features different sections each time, and does not include advertisements.

We tried to keep it brief, assuming that your time is precious and the work is plentiful.
Those who wish to learn more, will find links to articles and relevant information sources.
We hope that you will find the newsletter useful. We will be happy to receive any comments and suggestions.

Pleasant reading!
Ari Manor, CEO, ZOOZ

Details
An interview with a senior executive
Gil Ben-Yosef, Owner and CEO of Analit Ltd.
Number of company employees: 35.
Number of direct subordinates: 6 (4 factory managers, a CTO, and an Export Manager).
We provide: Nutritional supplements for children.
I have been in my position for: since 1992 when I founded the company within the framework of the Granot Industrial Park (we were among the first enterprises that sprouted from the industrial parks in Israel). Before that I completed a Food Engineering degree at the Technion and I spent 5 years as a Food Technologist at Cham Food (Israel) Ltd.
What I like about the job: Developing new products, because the heart of our industry is to continuously come out with new products. We develop approx. 20 new products each year, which are screened as a result of pilots that we conduct for over 100 ideas that we come up with. The process of conceptualizing an idea, conducting a pilot, and up to the design of the package, taste and more – is a wonderful challenge. Therefore, when we launch a product we get a huge feeling of satisfaction, even when the product does not become a bestseller.
The most difficult part of the job: That our employees are not rewarded well enough financially for their work due to our current financial situation and revenue constraints. Unfortunately, the organization cannot currently pay its employees more, and this is hard for me.
Goals I want to attain: I want to turn the company into a large company that exports worldwide. 60% of our revenues currently come from export, but the goal is to export our entire range of products to as many countries as possible, and I would like to become a world leader in the children's nutritional supplement niche. Personally, I would love to get to a situation where I can be engaged only in development and not in management.
Our vision: To manufacture nutritional supplements for children. Our slogan is "Vitamins that kids love". We develop "cool" and tasty nutritional supplements so that children will like them. These supplements constitute substitutes for medication and antibiotics – meaning preventative medicine instead of drug therapy. We gradually arrived at this vision through a process of evolution. We initially manufactured nutritional supplements for children because there was a demand for them, and not a lot of competition. There was a relative vacuum in this market. Everyone in the company had children, and gave them our products to try, and in light of the feedback we received we decided to improve taste and texture. The vision slowly developed to what it is today. Everyone in the company is a partner in developing and manufacturing the new products, and therefore the vision is obvious to all the employees. We meet every day - the employees react to the new products, and we use their opinions. In the summer we hire employees' children and get feedback from them as well. We are currently trying to bestow the message of "preventative medicine as a fun experience for the children" to our customers, whom we mostly work with through OEM agreements.
An original product in the market: Our first breakthrough was a jelly product made from pectin (produced from citrus fruit zest), and not from gelatin (produced from animal bones). Pectin was previously used only in jams, and we used it to develop a type of gummy candy (in the shape of a bear). Our second breakthrough was that we succeeded in combining pro-biotic cultures in a chocolate-like texture, so that the bacterial cultures are firmly suspended in the texture and protected from oxygenation during storage. They also do not decompose in the stomach, and therefore they safely arrive at their destination – the intestines, and protect the bacterial balance and the child's health.
Sources of innovation: The ideas come from the professional literature that currently exists in the industry. We chose materials based on their safety, stability and effectiveness, and we find a suitable carrier for the active ingredient. For example, one of our products is based on phosphatidylserine, which has already been marketed abroad. It improves cognitive brain activity, is intended for children with ADHD, and is a substitute for Ritalin. Phosphatidylserine originally had a horrible taste, and therefore it could only be given to children in the form of a capsule (which not all children are willing or able to swallow). We managed to improve the taste, and we currently provide phosphatidylserine as a regular supplement (for example as a gummy bear), eliminating the need to encase it in a capsule.
Recommended professional book:
(1) "Critical Chain" by Eliyahu M. Goldratt – a less well known book and highly recommended, written by the author of "The Goal".
(2) "Mind Map" by Baruch Shapira, published by Mahbarot M1h – a method for intuitively recording ideas.
(3) Badulina by Gaby Nitzan – in order to get the right perspective about life and work.


Send feedback to gil@yomi.co.il
Would you like to be interviewed?: contact us
Information about Innovation and Creativity workshops is available here (PDF file in Hebrew)

Education
A must-read book for managers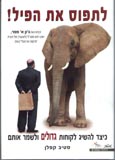 Bag the Elephant! / Steve Kaplan / Meter Publishers
Published in The Marker Magazine, February 2007, in "The Management Bookworm" column written by Ari Manor, CEO of ZOOZ.
Steve Kaplan specializes in Sales and Marketing for huge corporations, which he calls "elephants". Corporations, he explains, are huge, clumsy and slow, strong, smart, and have a long memory, just like elephants. Therefore, when you work with them you have to treat them with much care and respect, since they are not easy to please. However, whoever does succeed in pleasing them will be greatly rewarded. In fact, Kaplan thinks that focusing on elephants very much increases one's chances of succeeding in business: it is easier to succeed when you sell to a small number of large customers than if you sell to a large number of small customers.
Steve Kaplan loves his "elephants" and knows them well. The first elephant he hunted, P & G, helped the sales promotion firm that he managed, Bounty SCA, grow from sales of $200,000 to sales of 250 million dollars within 10 years. Throughout the years Kaplan successfully sold to more than 100 elephants, including AOL, Citibank, Ford, Nestle, and Unilever. In his book, Bag the Elephant!, Kaplan reveals how to systematically pursue elephants, and shares secrets and tools with the reader that enable him to dance with elephants.
A fundamental principle he mentions in his book is that you must communicate with elephants in their own language, which among other things contains forms and procedures, For example, when Steve wanted to impress the procurement team at P&G, he developed a special form that showed them how much they cumulatively saved on their annual orders from his company (compared to the regular prices they paid elsewhere). In another example, when Kaplan experienced a malfunction in product supply, he hurried to report to his elephant a new QA process he developed and implemented in his company to prevent similar mishaps in the future. At the time, his company was still too small to implement QA procedures, but the elephant felt he was being treated seriously and that the small company was learning lessons, and so he remained a loyal customer.
Another important principle detailed in the book is how a supplier can take advantage of a corporation's bureaucracy. It turns out that the managers working in a corporation also hate internal bureaucracy. A smart supplier can make it easier for the managers to work with him and gain their gratitude. For example, submitting proposals in the corporation's accepted format (so that a manager will not have to reformat the proposal); taking responsibility and obtaining authorizations from other departments (and thereby making contacts with additional departments and saving work for the initial manager); clarifying payment delays directly with the Finance Department (to spare the manager that requisitioned the work the headache of dealing with it).
The book Bag the Elephant! contains many additional tips, and describes proven methods of locating and contacting key people, compatibility between different types of salespeople and different types of elephants, conducting negotiations with the corporation, proper pricing of proposals, recruiting supporters, and working correctly and expanding sales with the various departments in the corporation. This is a very easy to read and informative book that is a practical guide to pursuing elephants. So if you are already trying to sell to elephants in Israel or abroad, or if you want to learn how you can profit from a small number of large customers, this is the book for you. In fact, this is such a successful book that this bookworm contemplated keeping it a secret all to himself….
Information about Complex Sales can be found here (page 15 in PDF booklet).
Invention
An innovation which surprised the world market and competitors
The Chewing Gum that Brushes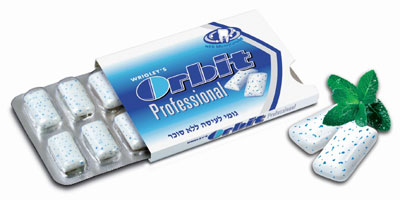 At the end of the article "Adjusting to the Environment" (in hebrew) that we published in Status magazine in 1999, we described how the "Orbit Gum prevents cavities" commercial led to increased sales of hundreds of percents in Israel, without changing the product at all, and without there even being a difference between this gum and all of its competitors (all chewing gum increases saliva production, and the saliva is what lowers oral acidity levels and washes away the bacteria responsible for dental caries).
The success of Orbit's campaign partially stemmed from it being, in its time, the first commercial to be aired on the first commercial channel in Israel, and the viewers still related to television commercials as something new and interesting. But the campaign was successful mostly because it transferred the gum from an enjoyment product category to a (dental) health product category. In other words, the campaign caused people to look at gum in a completely different way - from an enjoyment and "undignified" product to a health product that is compulsory after meals. As a result, chewing gum consumption habits in Israel changed drastically: Israelis began consuming 180 pieces of gum per capita per year (instead of the previous 80 pieces of gum per capita!).

Orbit gum is manufactured by Wrigley, the world leader in chewing gum products. Wrigley founded its first factory in the world for chewing gum in 1891. In 2006 its revenues stood at approx. 4.7 billion dollars, and its global chewing gum market segment reached 50%. Two years ago Wrigley upgraded the functionality of Orbit gum and introduced two significant changes. First, it added blue "brushing granules" to the gum that physically brush and clean your teeth during chewing. Second, it branded its new and improved gum under the name Orbit White, and packaged it in blister packages, identical to how medications are packaged. In Israel, this gum is called Orbit Professional. It is relatively inexpensive (less than 30 agorot per piece of gum), and it has become a mandatory product to carry in your purse or pocket for anyone who wants a quick and convenient way of cleaning heir teeth (for example, in the office after lunch). As a result, the innovative gum became to best selling chewing gum in Israel in 2006, and it is one of the most popular consumer products in Israel.