Written by ZOOZ consulting and training | (972)-9-9585085 | info@zooz.co.il | www.zooz.co.il
| Issue 26 |
Hello!

We are pleased to send you the new issue of LaZOOZ.
This monthly newsletter is sent as a free service to thousands of senior executives.
It features different sections each time, and does not include advertisements.

We tried to keep it brief, assuming that your time is precious and the work is plentiful.
Those who wish to learn more, will find links to articles and relevant information sources.
We hope that you will find the newsletter useful. We will be happy to receive any comments and suggestions.

Pleasant reading!
Ari Manor, CEO, ZOOZ

Details
An interview with a senior executive
Joshua Levinberg, Co-founder and Executive Vice President of Business Strategy and Development, Gilat Satellite Networks Ltd.
Number of company employees: Over 1,000, approximately 400 in Israel, 200 in the United States, and 200 in South America.
Number of direct subordinates: 7.
We provide: Satellite communications systems and services.
I have been in my position for: Nine years (including a two-year break in between). Before this position I established Gilat U.S.A. in 1990, was Vice President of Marketing of General Electric's Satellite Communications Division in 1996, and established GVT Co. in 1998. I am an Electronics Engineer by education (a graduate of Tel Aviv University).
What I like about the job: The ability to do complex and global business, and the freedom to start up new projects and daring processes. It lets me develop in new directions.
The most difficult part of the job: To persuade a large organization to change, to turn the entire ship around. It's hard to teach an old dog (or an established organization) new tricks.
Goals I want to attain: At work I want to help Gilat grow and penetrate new markets beyond satellites, and establish it as a global, growing and flourishing company. In life I have already achieved many personal goals, and I currently want to learn to do a water start on a wind surfing board.
Our vision: At work I want to help Gilat grow and penetrate new markets beyond satellites, and establish it as a global, growing and flourishing company. In life I have already achieved many personal goals, and I currently want to learn to do a water start on a wind surfing board.
An original product in the market: The product that I am most proud of is a satellite terminal that combines a video camera and a video compressor – making it possible to conduct surveillance and photograph and broadcast high quality video from any place on Earth. It's possible to photograph polar bears, among other things, because the product is resistant to extreme temperature conditions. This solution is also convenient for mobility, because it is a box the size of a shoebox, and an antenna that is a round dish approximately a meter in diameter. Another innovative product that we recently developed is a satellite terminal integrated in a Cisco router.
Sources of innovation: We read market research studies, get ideas at exhibitions, are spurred by the power of our sales and from our engineers. After we collect ideas we screen them using market analysis and various tests, and then we make business decisions whether and how to proceed.
Recommended professional book: A Gun Among Knives, published by Ma'ariv. The book was written by Joel Gat, one of Gilat's founders and it's first CEO, and it describes the story of how Gilat Satellite Network was established. It's written as a suspense book, and can teach a lot about technological entrepreneurship and Israeli chutzpah. The book can also be purchased at ibooks and at dbook. An interview with the author can be found here.


Would you like to be interviewed?: contact us
Information about Innovation Management workshops and Idea Banks is available here (PDF file in Hebrew)

Education
A must-read book for managers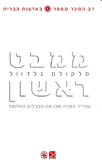 Blink: The Power of Thinking Without Thinking / Malcolm Gladwell / Keter Publishers
Published in The Marker Magazine, November 2006, in "The Management Bookworm" column written by Ari Manor, CEO of ZOOZ.
The book Blink is made of the stuff that may turn it into a bestseller, and it indeed make the top of the bestseller list in the U.S. last year. The secret to its success is a combination of an interesting topic (instinctive decision making), a flowing narrative, dozens of fascinating examples, and very diverse and extensive knowledge. Therefore, above all else, it is a readable and accessible book that is easy to get into and learn from. On the other hand, it is a multidisciplinary book that attempts to cover all aspects of a specific topic, and therefore it is not entirely clear where to categorize it, and who would benefit most from reading it.
The book deals with the first, intuitive impression, and its influence on decision makers. It turns out that our first impression of people, products, and events happens latently and subconsciously, crucially influencing decision making, and surprisingly – in many cases, in a more felicitous and accurate manner than with a conscious and in-depth analysis that occurs later on. The reason for this is that the first impression takes a very small number of critical factors into account and focuses on them alone while a conscious analysis considers dozens of other factors that often divert us from the main point. To provide an example, it turns out that physicians interviewing patients suspected of experiencing a heart attack manage to make a much better decision whether to hospitalize the patient if they only consider 3 risk factors alone, and ignore the interview with the patient and other additional risk factors. Similarly, the music quality in philharmonic orchestras improved wonders when the hiring interviews began being carried out behind a screen, so that the players' appearance would not divert the judging committee from the most important point – the quality of the music being played.
The book also emphasizes that a first impression can be very misleading. For example – tall people are promoted to management positions (the male CEOs of large corporations in the United States are 7 cm taller that the average male). And unfortunately, since the interviewer that preferred a tall man (and Caucasian… and not a woman…) did this subconsciously, he would deny (and rightfully so in his point of view) that his choice was discriminatory and unfair.
However, the good news is that it is possible to "train" the senses using appropriate exercises, so that the truly critical details are what are noticed during the first moments. For example – spectators that learned how to recognize expressions of contempt from a member of a couple, succeeded in guessing well how long the marriage would last, based on watching short video clips (a few minutes long) of conversations between various couples. And police officers that were trained in high-pressure situations were better able to discern whether the criminal that escaped from them is in distress and is not intending to attack them (and therefore there is no need to shoot him).
The insights Blink has to offer may help managers hire a more diverse and successful staff; market researchers better able to analyze customers' decision making mechanisms; salespeople to sell well also to those that at first glance do not appear to be successful customers; and armed forces personnel to better prepare and respond to emergency situations. Everyone can find interesting points to ponder. Also at second glance, this bookworm warmly recommends the book.
Invention
An innovation which surprised the world market and competitors

The most comfortable handle in the world
It all started with love. Sam Farber noticed that his wife Betsy was struggling to peel apples with a peeler because she had a mild arthritis. Another husband would have possibly offered his help in peeling the apples, but Sam's reaction was certainly exceptional. Sam had just resigned from managing a successful kitchen utensil company, and he asked himself why wasn't it possible to develop more comfortable kitchen utensils and work tools, instruments that would suit a very wide range of users? – children with small hands, left-handed adults, elderly people with unsteady hands, as well as… those that have arthritis. Sam called David Stowell, a close friend and owner of a product design company called Smart Design, and suggested that they collaborate and develop an especially user-friendly line of kitchen utensils.
After they had tested hundreds of handle models on dozens of hand types, a modern and unique looking handle was finally developed, which offered extremely high comfort and usefulness. The soft plastic lines in the grip area make it possible to grip the handle really well, comfortably, and without the risk of slipping. The first product line with this handle came out under the trademark of Good Grips, and it included 15 kitchen utensils, among them an especially comfortable peeler, of course. The innovation of these kitchen utensils did not stop at the handles. For example – the amazingly sharp peeler blade was created by a famous Samurai sword manufacturer!

The new kitchen utensil product line was launched under the brand name OXO in 1990 and became an instant success. Today there are over 500 different OXO products, most of them with Good Grips handles. OXO products have won many awards for design, and they are a perfect example of universal design (product design that will suit almost anyone – men and women, right-handed and left-handed, all age groups, tall and short, and also those with various physical handicaps). And perhaps most importantly, OXO products, which were created after a husband noticed his wife's discomfort, have become the best-selling kitchen utensil and work tool product lines in the world, thanks to the catchy name, the protruding handle, and the comfort and usefulness that they offer.