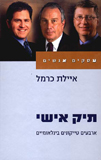 Personal File / Ayelet Carmel / Yedioth Ahronoth Publishers
Published in The Marker Magazine, July 2006, September 2006, in "The Management Bookworm" column written by Ari Manor, CEO of ZOOZ.
Reading biographies can be an enjoyable activity. You can relate to the heroes, and maybe even fantasize about being in their shoes. But in my Management Bookworm column I also look for more concrete benefits to justify the time spent reading the book. Perhaps a few good recommendations and tips that will teach you how to manage better, or tricks of the trade and business gossip, exposing how things really happen behind the scenes of one industry or another. A good business biography, similar to a reality show, allows us to enjoy and also develop. It helps us be clever, in other words to learn from others' experiences.
Something else to take into account is that biographies, for the most part, are as interesting as the people they are written about. For example, the books written about Lee Iacocca, Jack (Welch), and Rudy Giuliani are all fascinating books that feature a no-less interesting personality. Other superb biographies such as The Warren Buffett Way, and My Years with General Motors (written by Alfred Sloan, a book that was given rave reviews in this section in the past), actually focus on the described personality's insights and management methods, but it is still evident that the personality being discussed is colorful and exceptional.
The book I will recommend this time contains 40 brief biographies of global-scale tycoons. Five pages are written about each one, which briefly describe their childhood, education, career, family status and personal wealth, also management methods, principles of conduct, values and beliefs, unique hobbies, favorite quotes and other descriptive characteristics. The book, called Personal File, was published this year by Yedioth Ahronoth, within the framework of its new Business People series, and it appears to be the most interesting book in the series to date.
The book's main forte is its scope, and the scope of the information provided about each of the forty heroes. Imagine that you are speed dating the biggest tycoons in the world. You can start with the subjects that interest you. If you are interested in hardware - meet Michael Dell (Dell), Steve Jobs (Sun), Andy Groove (Intel), and John Chambers (Cisco). And if Finance is more your thing, then you'll definitively want to meet Warren Buffett, Michael Bloomberg, Charles Schwab, Sandy Weill (Chairperson of Citigroup), Peter Lynch, and even Michael Milican (the garbage dump king).
The really captivating dates in the book are those that don't even make headlines in Israel, and may even be unknown to us altogether, even if they were self-made millionaires. For example, Lee Ka-shing, known as Superman in the Hong Kong tabloids. The first company that he established, at age 22, manufactured artificial flowers. Today he is 78 years old, worth 13 billion dollars, and owns, among the rest, the Hutchinson Corporation (of which Orange belongs to).
Personal File is a good starting point for anyone who quickly wants to fill in gaps in their knowledge and be perceived as up-to-date in casual and management conversations. True, it is a digest version book, which for the most part does not explain the great secrets of success, but it is possible to understand what fields money is made in, and to take a peek behind their scenes. You can draw many conclusions from reading in between the lines, and to see the money trail that links various tycoons (whose paths cross), for example. By reading the book you can also enhance your connection with a few of the heroes, and read complete biographies about them. In summary, this is a manager's book with a winning formula: easy to read, contains a lot of information, and saves valuable time. True and tested speed dating.