Written by ZOOZ consulting and training | (972)-9-9585085 | info@zooz.co.il | www.zooz.co.il
| Issue 13 |
Hello!

We are glad to send you the 13th issue of LaZOOZ.
The newsletter is sent as a free service to thousands of senior executives in the Israeli market. It is published monthly, and does not include advertisements.

We tried to keep it short, assuming that your time is precious and the work is plentiful.
Those who wish to learn more, will find links to articles and relevant information sources.
We hope that you will find the newsletter useful. We will be glad to receive any comments and suggetsions.

Pleasant reading!
Ari Manor, CEO, ZOOZ

Innovation
Methods and tools for managing innovation processes
Adjust
This is the third SCAMPER tool we review here. With this tool - Adjust - you examine how elements of the product, service, process or problem can be adjuted to achieve better interaction with other elements of the nearby environment. The tool is quite similar "Adjustment to the Environment" tool, which we described in an earlier issue.

The steps for using Adjust are as follows:
1. Choose an existing product, service, process or problem
2. List internal and external elements: parts, materials, methods, ideas
3. Find an original and new way to adjust internal elements of the product, service, process or problem for better interaction with other elements listed on step 2 (either internal or external)
4. Visualize the new product, service or process, and identify its benefits and uses
Example 1:
Existing product: Umbrella
Internal elements: cloth, metal frame, handle, bag-sleeve, buckle...
External elements: hand, wind, eyes, head, rain, sun, door, companion, passers by, floor, mouth...
Improvements which have already taken place:

Metal frame with plastic covered ends, to prevent eye injuries
Reinforced frame, to prevent wind bending
Parasol - an umbrella for sun protection
Hat-Umbrella - worn on the head (and strapped around chin)

Improvements which have not yet taken place (as far as we know):

An umbrella with a glove attached to handle for warming the hand (the other hand is in the pocket)
An umbrella that collects rain water for drinking
An umbrella that channels the rain to a container instead of wetting the floor
An umbrella with a small wind propeller, converting wind energy for lighting (or heating)
Example 2:
Service: Hotel
Internal elements: lobby, restaurant, reception clerks, rooms, beds, TV, floors, elevator, corridors, room bars, swimming pool, club, carpets, hot water, bathrooms...
External elements: costumers, time of day, city (in hotel chains), costumer's country of origin, children, pets, cars, tourist agencies, flights, taxies, business people...
Improvements which have already taken place:

Hotels with swimming pools for kids
Hotels for business people (fax and Internet in each room, etc.)
Special rooms for newly weds (Honeymoon suites)

Improvements which have not yet taken place (as far as we know):

Hotels with bathrooms designed according to costumers country of origin ("like home")
A different bar in each room, according to the guests (family with kids - extra snacks, women - more diet and health drinks, men - more alcoholic drinks
Happy Hour - rooms for a lower rate for guests arriving on certain times of day
Children only hotel - parents "deposit" them for a few hours and leave
Personal service for guests' cars - washing, local maps, oil and gas check, gas discounts, car repair shop, etc.
Anti alergenic hotel (dustless carpets, etc.)
Move
What's new at ZOOZ
Technological Problem Solving
Good ideas for product or service innovations are not always easy to implement. It is worth trying to do so, since the technological development of these ideas may offer a breakthrough, and may produce patents or trade secrets, thus creating a sustainable competitive advantage. Althoguh ZOOZ is not a technology consulting firm, we do assist our clients in solving difficult (seemingly unsolvable) technological problems), in two different and complementing alternatives.
The first alternative consists of training of client engineers and technical stuff. It usually spans a three day course on Inventive Problem Solving, followed by a process of actual challenging and signinficant problems (e.g. worth hundreds of thousands of dollars), using the tools learned during the course. For example, several inter-disciplinary teams at Bagir recieved this training, and each team later worked on a different technological challenge (a "breathing" men's suit, a non-wrinkle suits, etc.). This alternative is lead by a ZOOZ facilitator, with the appropriate technological education and experience. The major advantage of this alternative is that the knowledge is later retained within the organization. The major drawback is that the tools learned usually solve about 50% of challenging technological problems.
In order to solve up to 95% of the challenging technological problems, we offer another alternative: outsourcing of technological consulting. This consulting is provided by Detroit based Ideation-TRIZ, represented in Israel by ZOOZ. The Ideation team is considered to be the world leading technological think tank, and is consisted of several scientists (in Chemistry, Physics, Computers, etc.) with unmatched technological problem solving experience. Ideation clients include NASA, General Motors, 3M, Johnson & Johnson, and numerous Fortune 500 firms. Recently Ideation solved a technological problem for Israeli measurement tools firm Kapro, enabling the production of a very important and innovative idea, which others experts were unable to solve for 8 years.
This second alternative entails higher costs, and is less appropriate for internal training (the thinking tools are much more complex, therefore requiring extensive training). Nonetheless, this alternative is highly recommended for solving technological problems worth a million dollars or more. In addition, you may use Ideation services for solving production failures, for performing an extensive failure detection analysis, for developing (or bypassing) patent walls, and for choosing, developing and protecting future technologies.
For a description of the process at Bagir: see here
For details on the 1st alternative - Systematic Innovation Problem Solving Workshops: contact us
For details on the 2nd alternative - Technological Consulting: see Ideation-TRIZ website, or contact us
Exposure
A creative advertisement and its logic
Creative Inversion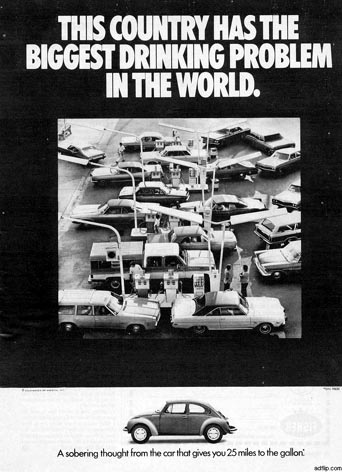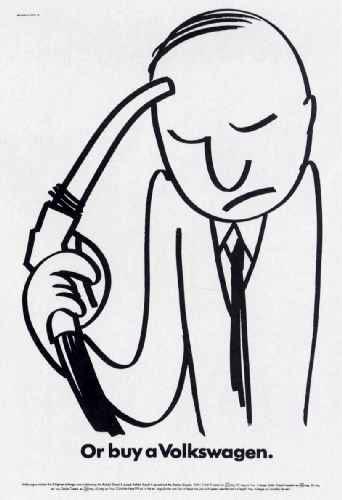 When you want to use creative advertising, the logical pattern used is only the beginning of the story. The skill in creative execution, including the chosen image, graphic design and the text - can turn a very good ad into a really sharp, surprising and effective one.
Look at the two ads from the seventies, both surprisingly relevant to current events. Both ads are by the same manufacturer (Volkswagen), for the same target audience (American drivers), and carrying the same message - "The Beastle allows you to save gasoline". Both ads use the Inversion pattern described here in a previous issue (the message conveyed is: "If you don't drive a Beatle, the USA will waste a lot of Gasoline/money").
The top ad is not bad, and speaks of a way to overcome "the biggest drinking problem in the world".
The lower add appeared 6 years later. It is much more accurate, sharper, clearer and to the point. The same message. The same pattern. But what a glorious execution!.
Source:
Volkswagen Beetle, DDB Needham, New York, Oct. 1973 Volkswagen Beetle, DDB Needham, NY, Charles Piecirillo and Larry Levenson, 1979
For information on creative advertising workshop see page 18 of our Strategy and Marketing workshop description (Hebrew, PDF file) or contact us
For other ways to save gasoline is Ideation information in the above section. Ideation has developed an extremely economical engine, and is consulting to international energy firms.